Part 2 of our London wrap up. Maricor is actually there right now for a couple of weeks. Totally jealous!
- Old Spitalfields on Thursdays and
Ephemera Fairs
: For your antique and vintage fix Thursdays for Old Spitalfields market is the day to go. Also a must visit for designers/fans of antique printed matter are the Ephemera Society's London fairs and bazaars. You can pick up Victorian theatre handbills, antique trading/advertising cards and all other manner of amazing printed goodness. The large fairs that attract vendors from overseas happen twice a year (27th May, 2nd Dec 2012) whilst their are also smaller bazaars during the year.
-
Nobrow
Independent publisher: their shop/gallery in Shoreditch is an amazing source for books, posters, original art and handmade goods. They also have their own screenprinting studio and work with an amazing group of artists on self published short and long run books. We blogged about them
previously
and are relieved to find out they are now stocked at Kinokuniya here in Sydney so we don't have to travel halfway round the world for our next Nobrow fix. But nothing beats going to their shop!
-
London Graphics Centre
,
Cowling and Wilcox
,
Jackson's Art Supplies
: our go to places for art supplies whilst we were in London. Between the three we were able to pick up square frames for our embroideries (surprisingly very hard to find off the shelf square frames back home so this was a revelation), calligraphy supplies, poster tubes and the usual paints, art paper and inks.
-
Cloth House
,
MacCulloch & Wallis
,
Ray Stitch
: If you need any embroidery/fabric supplies whilst in town try these stores. John Lewis also turned out to be pretty handy for embroidery thread.
- The Shop on Cheshire St: the streets on and off Brick Lane are choccas with vintage stores but we loved The Shop for it's stash of affordable vintage scarves, aprons and tablecloths. Here's a nice
write up
on Style Bubble that does The Shop more justice.
-
Pimps and Pinups
: In need of a hair cut? We were referred to Pimps and Pinups by a friend who'd been living in London for a few years and were pleased to to find out that they have a sort of brother/sister relationship with our regular hairdressers in Newtown,
Scissorhands
.
-
St Brides Library
: tucked away in a peculiar spot in Fleet Street is this amazing library dealing mainly with printing, typography and graphic arts, a must visit for any travelling designer in town. They also offer letterpress
printing workshops
and a host of other events. Looking at their site now they look to be temporarily closed but are still taking research enquiries and their events and workshops are unaffected.
- Bus 55 and 48: we lived in London Fields, Hackney so our way into the city was pretty flexible. We could take the National Express from London Fields Station which was only 3 stops away from Liverpool Street station or as I liked to do, you could take the bus in. Bus 55 and 48 winds it's way down Mare St through Hackney Road finally meeting up with Shoreditch. I loved the buses in London - the convenience of the signage systems, the simple and cheap fares as well as the fact you could pretty much get a bus door to door wherever you needed. Most of the things and places we needed were in East London and the buses allowed us to get there fast and cheaply. Also I liked taking the bus to figure out in my head where everything in the city was in relation to each other. It's a great way to acclimatise yourself in a new city, and the buses in London make it so much easier for you than any other bus system i've tried before.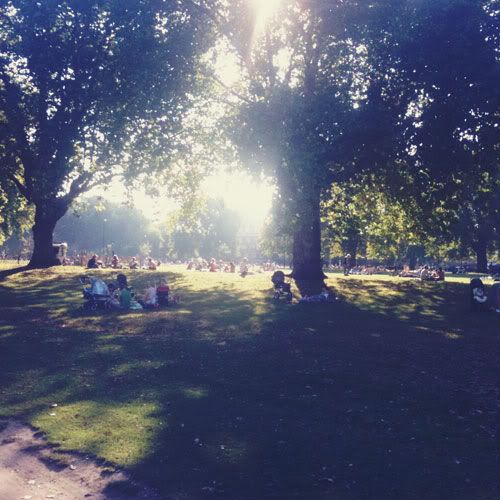 1. Handbill purchased at an Ephemera Society fair. I love the combination of different typefaces. I wish we'd bought more whilst at the fairs and bazaars, it's just so overwhelming.
2. London Fields in Spring
3. Picnic/working on our balcony over looking the railway line with central London in the distance. We had a pretty amazing view whenever storms rolled in over London but I have to say my favourite memory was during
Diwali
. The skyline was alight with never-ending fireworks from one side of the city to the other.