There's now a chill in the air and the blazing sunsets we've come to expect have faded away to ones
that are grey, white and pale. Brrrr, luckily we're going to skip the northern winter and will be home in time for summer in Sydney. We realised we have less than 3 months though before we head back so we're cramming in all the things we kept putting off: galleries, museums, cafes and curiosities. We jotted them all down and each week we have a lucky dip. Our fist pick was the flower markets at Columbia Road where we enjoyed a leisurely Sunday of people watching and flower hawking and came away with a chili plant and some thyme. But not as successful, was our trip to the Natural History Museum. We got diverted by heavy rain and a sea of children to the bedlam that is Harrods on a wet weekend in London. Some things I learnt that day – avoid museums during the summer holidays especially on a weekend, Harrods is crazy and somewhere I need not visit again and I'm very picky about my almond croissants. Since then we've had trips to St Bride's Printing Library, Victoria Park, Brick Lane Sunday Markets, Rough Trade and No Brow which have all been a lot more exciting.
Below are some of the goodies we picked up from the
No Brow
store.
Everything We Miss
by Luke Pearson,
Flesh and Bones: A Colouring Concertina
by John Sibbick and
Rise & Fall
by Micah Lidberg. A place you must visit if you're in London, No Brow are independent publishers that work with graphic artists and illustrators to produce exquisitely tactile printed works. They have a show coming up in September that looks like it will be pretty awesome.
Masks
is an exhibition of works from Ben Newman and it opens on the 15th of September.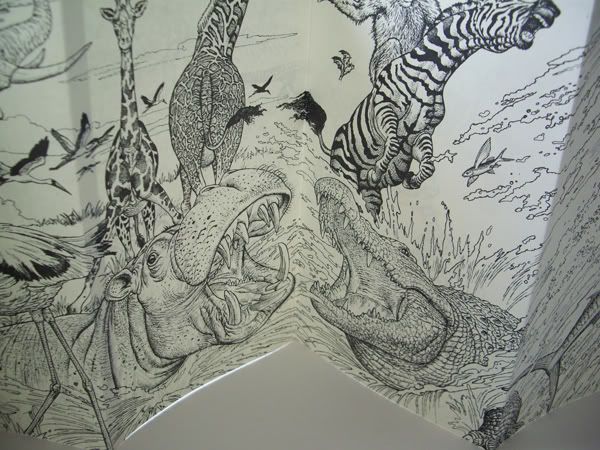 And lastly here are some stop motion animations that have blown our minds lately. Johnny Kelly from Nexus Productions beautifully crafted stop motion animation "Back to the Start" has just gone live. There's a
behind the scenes
here and some
production stills
from the shoot.
And a classic animation that we were introduced to at
LIAF
, "Hedgehog in the Fog". Stunning, mesmerising and so technically brilliant.