Hello! New year and new blog post. I remember when I was younger the time between the end of the year and the start of the next felt a lot longer with enough time for me to get used to the idea that a new year was about to begin and be comfortable with the new starts that it would bring. Now it feels like I only have a few days to celebrate the end of the year and all things that have happened before the freak out of realising that holy moly what will I do, the new year is here and it's time to start all over again. I'm pretty sure i'm not the only person who sometimes feels overwhelmed at the possibilities of a blank page, the feeling I get at this time of year is like that just about a thousand times stronger.
At the end of last year I started to worry about how we could develop our work. My boyfriend will be the first to tell you that one of my favourite past times is to worry so I didn't turn away from these thoughts. Instead I thought about why I was feeling that way. I think it's healthy to reflect and analyse what you're doing, explore change and develop so that's what we'll be doing, starting now.
This year has the potential to be a lot of things, whether we're ready for it or not. So maybe, just like the first beach swim of the season, we just need to jump in!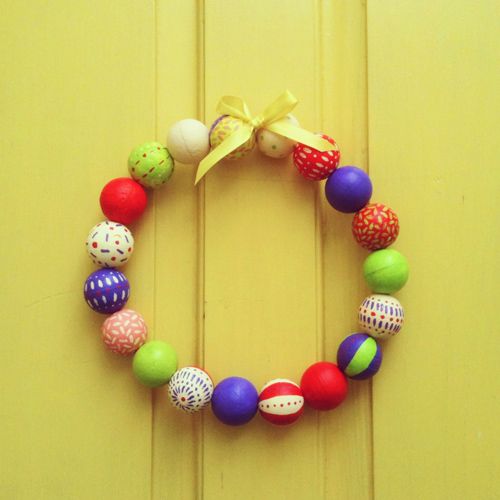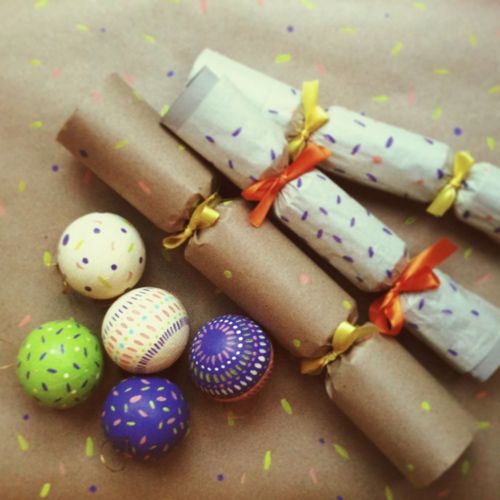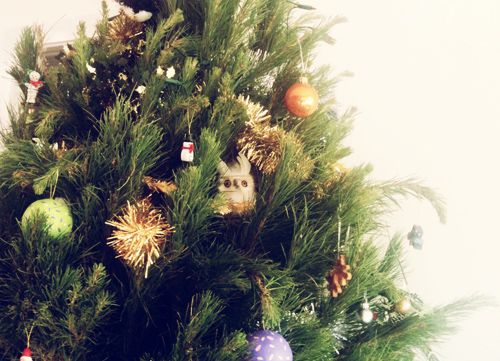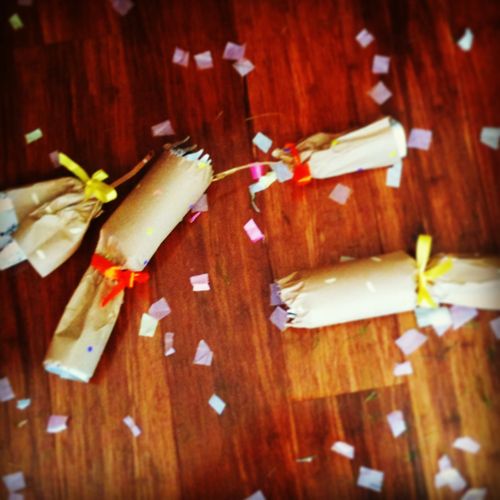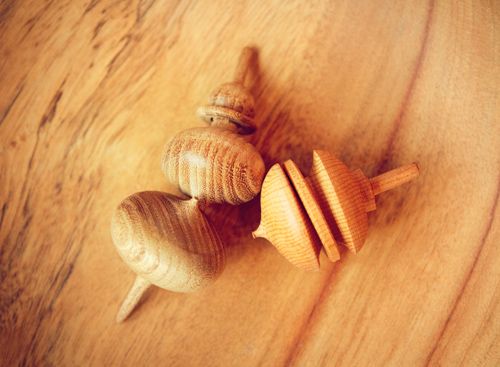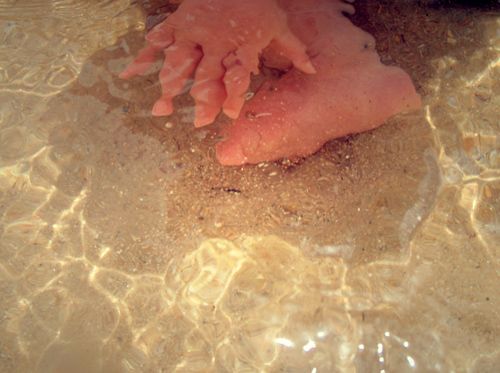 1. Christmas is a lot more exciting when children are involved. I was never really into the whole Christmas build up - decorations, trees and lights until this year. I went a little decorating mad making pop pom and streamer garlands, painting ornaments, a wreath and also pimping dollar store bon bon crackers with new gifts, confetti and jokes. This is the finished wreath. I used left over acrylic paint so unfortunately it wasn't water proof and had to be taken down whenever the rains came. Next time i'll make some with waterproof paint!
2. I was in a budget saving mode this year so also hand painted some wrapping paper.
3. We had a mixture of old ornaments for our first tree borrowed from M's parents and my own. We did splurge a little though on three owls that we hid amongst the pine needles.
4. For family Christmas lunch we continued M's family's tradition of paper hats and added some fun variations from TMod, masks too!
5. Bon bon aftermath. I replaced the novelty gifts with some amazing Japanese wooden spinning tops from
Poketo
, mini 3D wooden puzzles and some woven bangles from
Leif
that I was almost tempted to keep for myself.
7 - 10 We've been spending a lot of time at our favourite beach. Ava's slowly getting used to the open water, she loves digging her hands through the sand. Hopefully she'll take after M's side of the family and be a natural swimmer.