A few big things to blog about this Monday so this is going to be a long post!
First up, our first ever solo show opened at
Mart Gallery
last week. Huge thanks to Mel for having such an awesome space and hosting us, Sam for lending us your muscles for bump-in, Ly for coming early and helping set up and Ben and Michael for manning the drinks table and to everyone who came and made it such a great night. "Turns of Speech & Figures of Phrase" will be up for the next 2 weeks until the 19th of March. Also Ca and I will be at the gallery this Wednesday (the 9th) from 1:45 - 3:45 if anyone wants to drop by and have a chat. There are a few more pieces still up for grabs, we'll have pictures up soon.
We'd also like to thank these sites who have posted up our work, its awesome to know that our work is liked! Cheers
Sick of the Radio
,
Design Work Life
,
Graphism
,
Walk the Sand
,
Portable.TV
,
MrXStitch
,
August Empress
,
Las Teje y Maneje
,
Banana Meet Cute
,
Jessica Swift
,
Might & Wonder
and The Brag for the very kind words.
We mentioned in the last post that we we're madly tag-team sewing the last piece for the show. Well, in between the sewing we also took turns whipping up an illustration for Anorak Magazine's Food Is Fun project. Our paper illustration is now up on the
Anorak site
, it's bursting with fortune cookies, fruit and vegie kebabs, cursive hummus and more yummy stuff. Here's a process pic of some goo-ey glue paste type...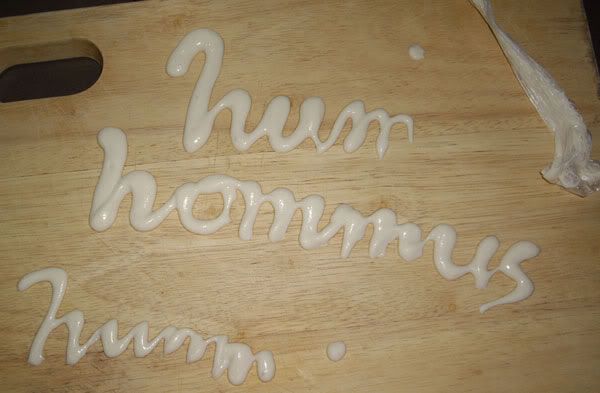 We're prepping for our trip to London so we're sorting out what we can take with us and what we'll have to leave behind. As we're not going to be able take all our prints with us our
Big Cartel store
is now on sale! Our risograph prints are all reduced and I've put the sewn piece "Get All Up In My Goat" up on our store too.
We're heading to London at the end of March, please get in touch if you're in that part of the world and could use a couple of nimble fingered illustrators/designers.