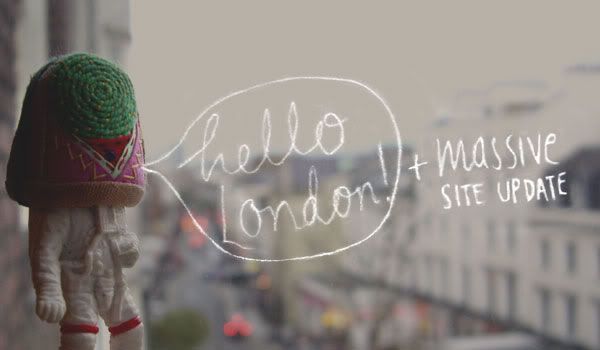 So long Sydney, we're sad to say goodbye but hello London!
We arrived early Tuesday morning at around 5.30 and after 24 hours flying thank goodness we opted for a cab transfer from the airport. I doubt we'd have made it to our friends' place otherwise. The flights themselves were pretty good but any extended period of time suspended in halfway time between your old timezone and your new one is always disorienting and exhausting. On the second leg from Hong Kong to London we somehow managed to score first row seats which meant we had extra leg room. I felt a bit guilty though. Since we're small asian girls we were in the least need, especially as there seemed to be a whole fleet of giant rugby fans/players crammed in nearby.
Our first week has been a mix of work and exploring.. sadly more of the former. We sorta nerded out and made sure we hunted down an art supply store, fabrics and craft store and grocery shops nearby. No denying where our priorities lie :)
On Saturday we checked out a couple of Markets around east London. I scored a rope necklace at the new
Designers Markers Market
and we ogled the beautiful food (and people) at Broadway Market. We're hoping to find a rental nearby since the markets are so amazing. I miss living in Newtown and it feels somewhat similar, a cross between Newtown and Surry Hills.
This week we have a commission to finish that's been keeping us from exploring more. I shouldn't complain about being busy but it's a bummer we're stuck indoors. Oh well we'll just have to sew like crazy :)
Maricor and I have also put up a massive update on our site. The full series of embroideries from our Turns of Speech & Figures of Phrase exhibition is up as well as the latest Global Village artworks and an illustration we made for Anorak Magazine's Food is Fun series. We are also proud to share our latest animation that we created for British Council Australia. Together with Republic of Everyone we created an animation to help launch
Big Green Idea
, a great funding initiative by the British Council. We worked on it before we flew out and had to multitask more than usual for this project. Making the props, rigging, lighting, camera ops and post production. It was a bit of a stretch at times! Although it was a busy two week we had a great time working on it, coming up with the cute paper characters and learning new techniques.